SV-Bundessiegerzuchtschau 2015 in Nurnberg
Verein für Deutsche Schäferhunde (SV) e.V.

SV-Bundessiegerzuchtschau 2015 in Nurnberg


vom 04.-06. September 2015
Grundig-Stadion


SV-Bundessiegerzuchtschau 2015 in Nurnberg

vom 04.-06. September 2015
Richter BSZS 2015
GHKL-Rüden Lothar Quoll, Zwinger: vom Agilolfinger
GHKL-Hündinnen Erich Bösl, Zwinger: von der Piste Trophe
JHKL-Rüden Dirk Gabriel, Zwinger: vom Quartier Latin
JHKL-Hündinnen Wilhelm Nordsieck, Zwinger: vom Externstein
JKL-Rüden Johann Mayer, Zwinger: von der Jahnhöhe
JKL-Hündinnen Richard Brauch, Zwinger: vom Elzmündungsraum
HGH-Klassen Wilfried Scheld, Zwinger: vom Busecker Tal
Langstockhaar-Rüden Norbert Scharschmidt, Zwinger: vom Heerbusch
Zuchtgruppen / Langstockhaar-Hündinnen Jürgen Hoffmann, Zwinger: von Klobenwalde
TSB Rüden Hans-Peter Schweimer, Zwinger: vom Nordlandzwinger
TSB Hündinnen-Horst Gauger
Vertretung im Krankheitsfall für alle Klassen - Peter Arth, Zwinger: vom Karlsfelder Hof
Dear Ladies and Gentlemen, Dear SV-members,
We wish to inform you that the former SV Board had decided in May that
in 2015 will take place no live broadcasts of the SV-Bundessiegerprüfung and SV-Bundessiegerzuchtschau.
The recording of events is performed by the company REIVISION that will create a follow-up to the event in the normal way, the DVDs of each event.
The SV-board in its current composition provides both factually and objectively in the position of the successor of the previous Board. This means first of all that you will keep for the sake of continuity within the club's management and in terms of legal certainty in relation to the existing decisions.
On the part of the SV-Board is currently working on a concept to be able to offer this service to members in the future.
Thanks for your understanding.
SV main office.
Important Information
Please note that, if the working title has been earned abroad, SV can only recognize it if the organizing club confirms that the trial has been held in accordance with the regulations. In case we have to request the confirmation we need a proof of the working title in advance. If the proof is presented at the event the rating can only be granted under reserve.
For the attention of all participants and guests:
A special request of the organizer is to keep the ways and streets around the venue clean. Please note that all dog waste has to be cleaned up; doggy bags and waste bins are placed at your disposal from the organizer. For penalties an administration fine of Euro 30.- will have to be paid to the officials of the city of Nürnberg. In all the past year of the event this implicitness was done in the best way and we would like to ask you as our SV guests to leave this good impression of cleanness also in this year.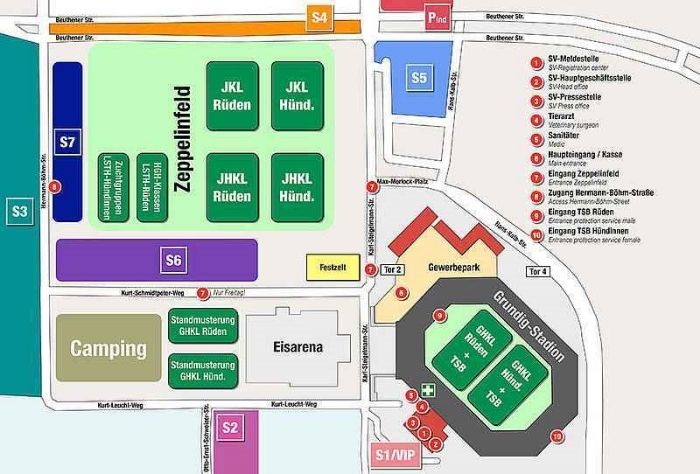 Referinte:
-
Regulamentul de Selectie Ciobanesc German
-
Standard Ciobanesc German
-
Regulament Lucru IPO 1
-
Regulament Lucru IPO 2
-
Regulament Lucru IPO 3
-
Regulament BH
Linkuri:
-
Bundessiegerzuchtschau 2015 - Forum Ciobanesc German
Stire publicata de: webmaster
Acesta stire a fost afisata de 12700 ori